Here you will find the latest Ben Barnes News and Pictures and a lot more.
If you have any questions please read the FAQ first you can also email the site contact here.
Add us on Twitter.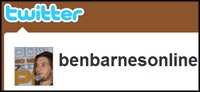 Updates
<< Previous 1 2 3 4 5 6 7 8 9 10 11 12 13 14 15 16 17 18 19 20 21 22 23 24 25 26 27 28 29 30 31 32 33 34 35 36 37 38 39 40 41 42 Next >>
The Voyage
of the Dawn Treader
Part: King Caspian
Release: 2010
Info Official Site Photos



The Picture of
Dorian Gray
Part: Dorian Gray
Release: September 2009
Info Official Site Photos


Easy Virtue
Part: John Whittaker
Release: 7th Nov 2008
Info Official Site Photos



Bigga than Ben
Part: Cobakka
Release: 2008
Info Official Site Photos
Ben has become a Patron for
Make a Wish
For more information go here


Webmaster Tsaress
News Updater Buttercup
Version 11 Layout by Tsaress
Disclaimer
The site is not an official site for Ben Barnes.
I do not know him personally,
nor can I get into contact with him.
By Entering this site you have agreed to the
Terms and Conditions

If you have any comments, questions,
or issues, please contact me


A fansite for the actor Ben Barnes.
Ben Barnes is the actor who stars in Prince
Caspian in the latest Narnia Film. He has also starred in Stardust, Bigga than Ben, Easy Virtue, Dorian Gray and played Dakin on stage in The History Boys.
He was also in the group Hyrise.
This site brings the latest
Ben Barnes news, Pictures, video and audio.