Jan 04,2015
Posted by Tsaress with Comments Off

on Sons of Liberty interviews
Interviews about Sons of Liberty
Article here
Another here
Barnes describes Sam as the "beating heart of the revolution." He was also a sort of Robin Hood who put himself in the British cross hairs by refusing to collect taxes from some of his fellow citizens. In the TV show, Sam evades arrest by racing across rooftops and jumping through windows.
"They were very individual characters from different backgrounds coming together — almost in the style of an 'Ocean's Eleven' team in order to work toward the independence of the country," Barnes says.
But while they shared a common vision of free and independent states absolved from allegiance to the British crown, the nation's founders often disagreed about how to achieve their goals "and had to debate and sometimes fight it out regarding whose approach was best," Barnes explains.
Sam Adams, for instance, favored a "headstrong, fists-first approach" to revolution, Barnes notes, while Hancock was much more sympathetic to the Brits. "They initially seemed like the odd couple," Barnes says of the close friends. "But their ideals were more similar than they first realized."
> Films > Sons of Liberty > Images > Promos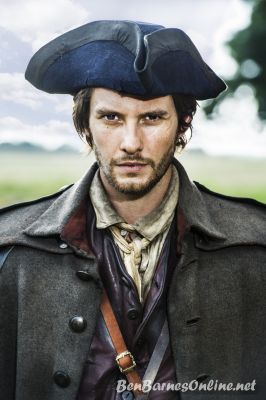 This entry was posted on Sunday, January 4th, 2015 at 6:30 pm and is filed under Media Update, Sons of Liberty. You can follow any responses to this entry through the RSS 2.0 feed. Both comments and pings are currently closed.