Jan 04,2015
Posted by Tsaress with Comments Off

on Seventh Son interviews and Promos
Seventh Son interviews
Link to first one here
Ben Barnes: I've done some work in the fantasy realm before, but I think a lot of films are presented as an allegory of good versus evil, and they have very interesting subtexts. Not all too often are the characters really explored, to the point of what dilemmas they're going through, in their approach to what they're doing. I think that whole concept of good versus evil, and are you evil if you're attempting to kill or murder something that you believe to be evil, are dilemmas that these characters are struggling with, particularly my character, as an apprentice. He's somebody who's new to it, but knows that he's meant for something more, in this world. How exactly that's going to play out is something that he doesn't know, and the idea of fate and destiny is painted on top of that, as well. There's a lot of interesting things, thematically.
Another here
"What I like about films like these is that you can heighten the imagery to take on the themes it represents in fantasy.
"If you want to talk about forces of nature, then you literally have trees uprooting themselves and starting to move. When you look at anthropomorphism, turning into animals actually means representing different sides of yourself. When it comes to casting magic spells, you have to earn the power or experience to use it."

"That's what makes the fantasy genre so fantastic. It's pure escapism. You can watch the movie just to have a good time. It's fun to find out who's going to win at the end," he concluded, before fake-whispering, "Me."
THOUGH Jeff Bridges had to skip the press meet in New York because he wasn't feeling well, his presence was very much felt at the event.

Co-star Ben Barnes said working with the 65-year-old actor was the "biggest draw" of doing Seventh Sonfor him.
"I would love to be in his head for just five minutes," Barnes attested. "He's got this script that's just riddled with drawings, amazing little cartoons of monsters and notes everywhere."
Barnes also revealed how he'd steal one of Bridges' drawings on the set of Seventh Son.
"He used to leave this little drawings on napkins where we were eating. At the end of the meal, I'd secretly shove it into my pocket."
> Films > Seventh Son > Promo > Promos
> Films > Seventh Son > Promo > Posters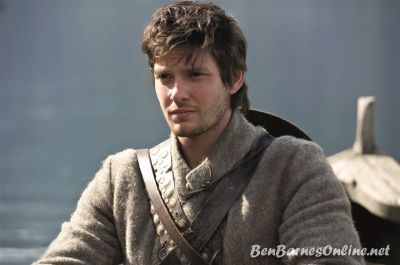 This entry was posted on Sunday, January 4th, 2015 at 5:36 pm and is filed under Gallery Update, Seventh Son. You can follow any responses to this entry through the RSS 2.0 feed. Both comments and pings are currently closed.