Jan 13,2015
Posted by Tsaress with Comments Off

on By the Gun and Interview and Bello Magazine shoot
You can now buy By the Gun from itunes from here.
Interview from here
Well we shot a good chunk of the film in Providence, Rhode Island because I think they could find a lot of the back alleys and things that we needed for that gritty urban texture. Then we shot the remaining stuff in the North End. The real treat about filming this was that when I arrived they had a lot of the supporting cast already, and they were as authentic as they possibly could be. A lot of the places we shot were well-known Boston bars. We actually got a lot of the gangsters and the bar owners who are infamous in the town to play cameos. We had some of the gangsters played by ex-policemen who had seen this story from the other side. Everyone in Boston is such a great storyteller. They are so keen to tell you stories about the dealings they had with these kinds of characters in the past. There was no limit to the amount of secondhand research that was available to me.

Your upcoming film, Seventh Son will finally be released on February 6th. Were you disappointed when the movie's original release date was postponed?

Barnes: I was disappointed that it got postponed because you make something and you want it to get out there. You will now be able to hopefully enjoy it, and that is exactly how I viewed this film. It was not quite what I expected when I saw it. It has this lovely, fun, nostalgic feel to it. There are four central characters, the love story and the history between the two older characters. It has magic and intrigue. It has this great subject that Jeff Bridges and I were very keen to highlight about the dark, the light and the good and the bad in everyone. It almost relates to the By the Gun as well. Can you love even if you do not understand hatred? Can you murder out of love? Those are underlying themes that could be set in any universe. The idea of fate and destiny is very present as well. Obviously the thrill of working with your heroes in every scene was a big draw for me to do that film. Actually I wanted to get it out there, but it was truly a studio issue in terms of Legendary Pictures moving to Universal Studios and that studio already having their slate set for the rest of the year. It was not anything to do with the film itself. It will find its audience when it is supposed to.
Bello Magazine interview here
> Posed > Photoshoots > Bello Magazine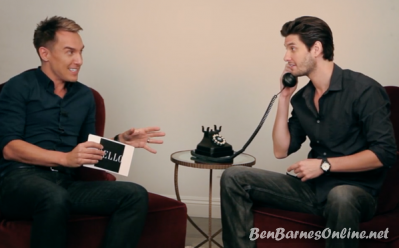 This entry was posted on Tuesday, January 13th, 2015 at 8:51 pm and is filed under By the Gun, Gallery Update, Seventh Son. You can follow any responses to this entry through the RSS 2.0 feed. Both comments and pings are currently closed.